Chastang-Fournier K-8 School Library Media Center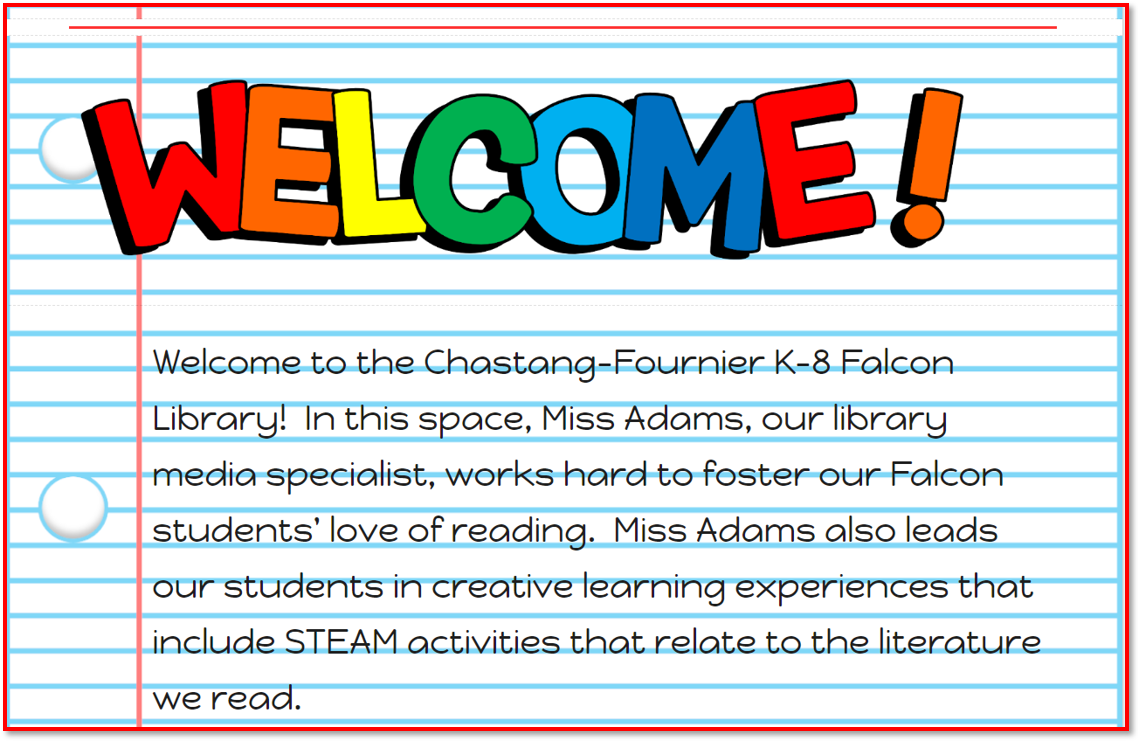 Library Media Center Mission Statement

The library media program will enable students to be become information literate and lifelong readers. The program will provide educational and technological opportunities to students and faculty in keeping with their needs and abilities. The program will enable individuals to access, analyze, assimilate, and use information effectively.

Hours:
8:00 a.m. - 2:30 p.m. Monday thru Friday
*Additional times and accommodations may be requested.
Library Media Class Schedule
Individual students must have A signed and timed pass from current period teacher.
Sign in Media Center Log. Write name, current teacher, and class period.

Complete self check-in of library books.

Check out all library media materials before leaving media center.




Books are checked out for a two-week period. Books may be renewed once if not reserved.

If a student owes a fine they are not allowed to check out another book until the fine is paid.

Students must pay for damaged and lost books. Students may not check out other materials until their debt is paid.
Reminders
If a student is caught using an unauthorized Internet site they will be warned once, if caught again thy will lose their Internet privileges.

Books should be returned to their proper place on the shelves before leaving, or left at the circulation desk.

Tables should be cleared of trash before leaving. Push chairs under the tables.

Any student that is disruptive will be warned once and if the disruption continues the student will be sent back to class.



Chastang-Fournier K-8 School uses the Accelerated Reader Program to aid in recognizing student reading levels and matching instruction to individual student needs.
Accelerated Reader
Accelerated Reader or AR is the nation's leading reading management program. Reading Practice goals will be established for all students. This will also ensure that students participating in our Read 25 Books Campaign have read their books by testing them on the book's contents.
Students either choose a book to read or read books assigned to them.

Students will take the Practice Quiz after completing their book.

A score of 70% or higher is passing.

Students reaching their Reading Practice goal will be rewarded.

Accelerated Reader is web-based with over 200,000 book quizzes. New Quizzes are added daily.

Parents can access Accelerated Reader Quiz results from home.